4 Reasons to Install Custom Gym Flooring in Chicago, IL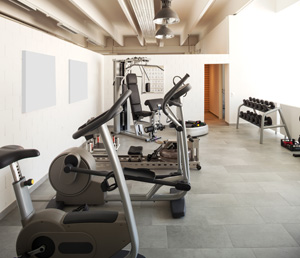 All over Chicago, residents are taking a proactive approach to getting fit by installing their own in-home gyms. Before they start bringing in barbells and sports equipment, however, they first need to install durable and reliable gym flooring. Gym floors provide the basis of all great Chicago home gyms, from Arlington Heights to Bolingbrook. Let's take a look at some of the benefits custom in-home gym flooring.
Gym Floors are Comfortable and Safe
Working out in an unsuitable environment can lead to injury. We design our gym floors to prevent slipping and provide support for all kinds of athletic movements, allowing fitness fans to perform their workouts safely. By replacing existing hardwood or concrete floors with gym flooring, Chicago residents can reduce stress on their bodies while they work out at home.
Durability of Gym Flooring
Gym floors are designed with durability in mind. Whereas some types of flooring materials may not cope well with the sweat generated by hard exercise, gym floors resist moisture and discourage the growth of bacteria and mold. To clean their gym floors, Chicago residents simply need to wipe down the surface and sweep or vacuum away loose dirt. The low maintenance requirements of this kind of floor mean that home gym owners can spend less time tending to their flooring and more time pushing their bodies to their limits.
Gym Floors Have Low Installation Costs
Compared to some other flooring types, such as hardwood floors, the cost of installing custom gym flooring in Chicago is relatively low. Coupled with the fantastic performance, the low cost represents excellent value for money. To give Chicago homeowners even more reassurance that they are making a good investment, Supreme Sports offers a 10-year manufacturer's warranty.
Custom Gym Floors Meet Individual Requirements
Supreme Sports can provide suitable gym flooring for any Chicago home gym, regardless of the shape or size of the room you want to convert. Gym floors also come in a wide range of designs and color options, allowing all homeowners to create an environment that meets their style preferences as well as their workout needs. When you have a custom-designed gym available in your home, you may find your motivation to work out increases dramatically.
To find out more about the benefits of gym floors in Chicago, contact Supreme Sports today. We can work with almost any budget to provide flooring that transforms an ordinary household space into a fully functional home gym.