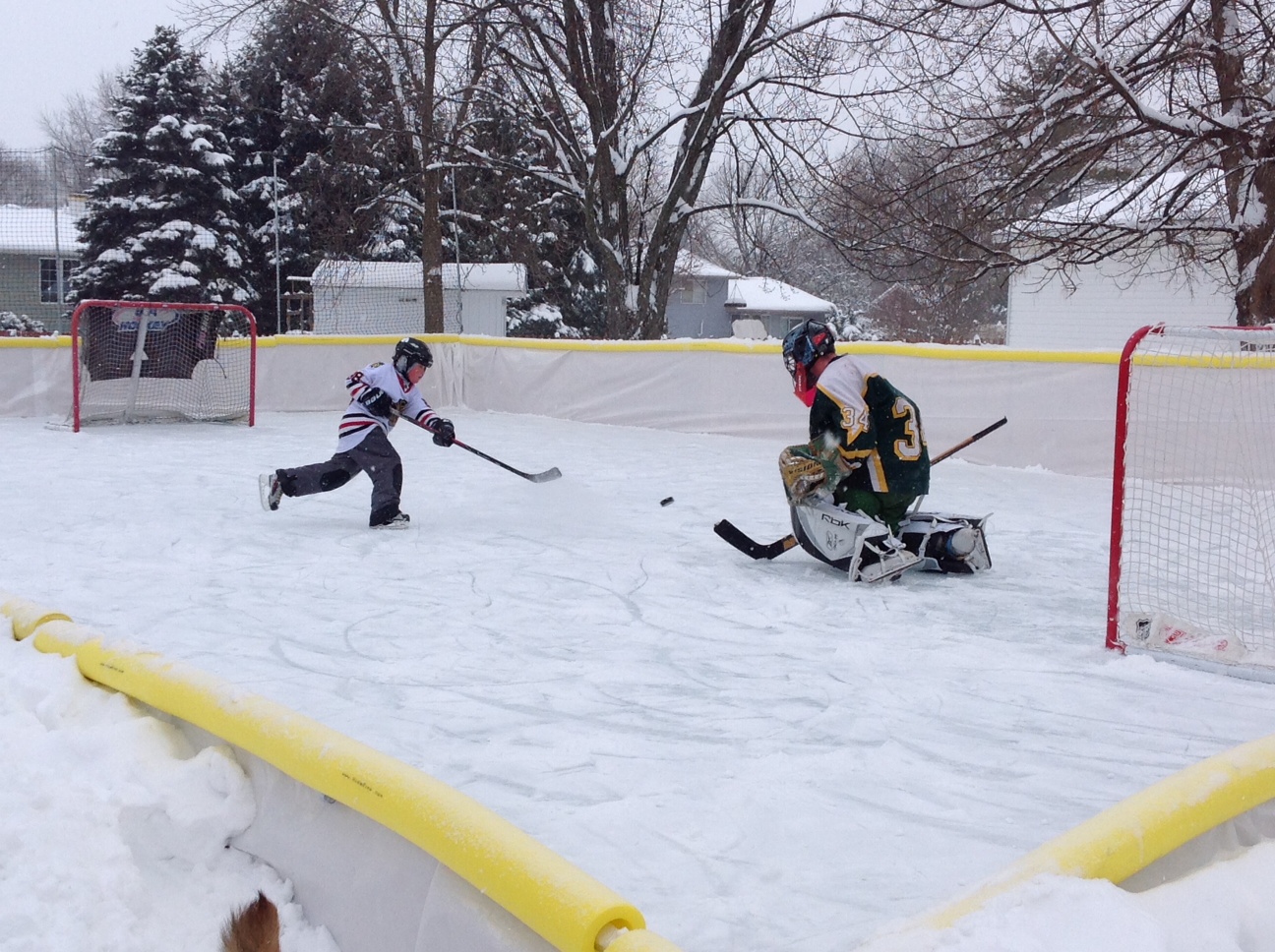 Supreme Sports Chicago is the #1 ice rink builder in the Chicagoland area.  Since 1992, we have built thousands of residential and commercial ice rinks.  We specialize in customizing a rink to fit your yard and family's budget.
Here are some of the most frequently asked questions:
Q. What is the cost of a backyard ice rink?
A. It is important to know that the first year will be the most costly.  In addition to installation, your initial investment includes the materials that will be used for many years to come.
Costs vary depending on the size of your rink, materials used and custom items.  Brackets, board height, netting, lighting, and padding can contribute to the final cost.
We understand that
cost is a major factor for many families and we want you to have a rink.  Call us and we will work with your budget to make your backyard ice rink dreams come true!
Q. Do you offer starter kits?
A. Yes!  Size for a starter kit is 20 x 40. Price range for this kit is $1,250-$1,650.
Q. Does my yard need to be perfectly level?
A. No. Most yards are not level.  Maximum grade differential is 14" without extra support.  This is one of the big advantages to having us do the work for you.  At Supreme Sports Chicago, we know how to install a rink correctly.   This saves you hours of work and frustration.
Q. How long does a rink and its materials last?
A. The skating season is generally mid December to the beginning of March; this really depends on Mother Nature.  The major elements of a rink—boards, brackets, and bumper caps– can last for many years.  Accidental damage can be repaired.  Liners are the only supply that must be purchased annually.
Q. What kind of maintenance is involved?
A. Treat your rink like your sidewalk and shovel as soon as it stops snowing.  Some additional flooding may be needed depending on usage.  Supreme Sports will guide you every step of the way.  Follow us on Facebook for updates and reminders when it comes to maintenance.
Q. Will a backyard rink ruin my grass?
A. No.  This is one of the major misconceptions about backyard rinks.  Grass goes dormant in the fall.  The liner will actually protect your grass from being saturated with moisture from the snow.  In most cases, your grass will be greener and healthier the following year.
Q. What happens when it is time to take down my rink?
A. You will need to store the boards and brackets at the end of the season.  The liner can be cut up and disposed of with your recycling. While many customers take down and store their boards and brackets themselves, Supreme Sports does offer a take down service. Either way, we will have you covered with videos and directions.
Have other questions?  Ready to set up your rink install?  Call  us today!  (630) 762-1273