About Supreme Sports of Chicago
Supreme Sports of Chicago has installed custom multi-sports courts for commercial & residential use since 1997!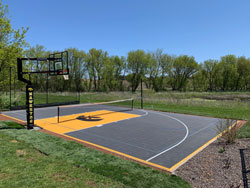 Supreme Sports Chicago is located in St. Charles IL, approximately 30 miles west of Chicago. We design and build custom game courts and putting greens for both residential and commercial applications.
President of Supreme Sports Chicago, Joe Hiltz has been involved in backyard entertainment since 1997. He began his career with a local court building companu in sales and design. Over the next several years, he became one of the top court builders in the Midwest and has been involved in over 1,000+ projects in the region. In 2005 and 2006, Joe was awarded top court producer in the midwest by his employer. In 2007, Joe made the decision to take his knowledge and love for the industry and launch Supreme Sports Chicago. Supreme Sports Chicago offers a new and affordable system for our customers by eliminating the added overhead expense found in companies with distributorship style network.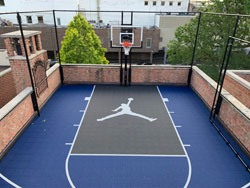 Our team at Supreme Sports Chicago is made up with highly professional, experienced court builders. We have extensive knowledge of how to build and design custom courts and putting greens to suit each individual family needs with our advanced "turn key" style operation. Supreme Sports has a life-time pro-rated warranty on its tile and hoops and our courts are maintenance free. We have the best performance to price ratio in the industry.
Our mission is to increase quality family time by providing the basis for outdoor entertainment. Our children are our future and Supreme Sports Chicago wants to give them the opportunity to become the athlete they dream of. Please inquire today for information on Supreme Sports Game Courts.