Basketball Courts & Flooring
Chicago and Hinsdale Basketball Court Flooring & Equipment for Indoor/Outdoor Sports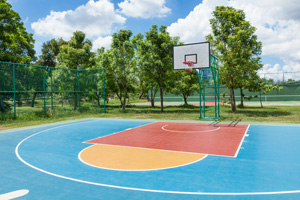 Supreme Sports of Chicago's basketball courts can be constructed for both backyard and indoor use. Wherever you have room at your home or business, our expert staffs can construct an athletic surface that will provide years and years of enjoyment. If hoops is your game, we can create your very own indoor or outdoor courts with quality gym flooring at NBA regulation size. We also provide courts and surfaces for a number of different athletic endeavors. Each of our installations is created using state-of-the-art materials, and is carried out by an expert team of installers. When Windy City residents are ready to bring the games they love home with them, more often than not they turn to Supreme Sports. Discover why firsthand by calling today.
All around the state of Illinois our outdoor basketball courts are becoming centerpieces of family fun. We offer indoor court options as well, and if you have the available space we can create the court of your dreams!
Indoor and outdoor basketball courts
All basketball courts are NBA regulation size
Durable flooring surface
A variety of colors and designs available
Ask about your free quote
Our team is highly experienced and highly motivated to provide you with a positive experience from the start to the completion of your project. We value your input, and will work closely with you to bring your vision to life. A home basketball court will greatly enhance the value of your home, and allow for countless hours of fun with friends and family. What a great idea! From Chicago to Hinsdale, our outdoor basketball courts are taking the games and homes of our customers to another level!
Supreme Sports consistently delivers the ultimate in high-end sports flooring for our customers, and we can do the same for you! One call to Supreme Sports at 630-762-1273 is all is takes to get the ball rolling. Once the process begins you'll be amazed at how quickly and easily it plays out. Whether you prefer an indoor or outdoor court, we will work with you to bring the court of your dreams to life. The sports we love are always near and dear to us, and with our help you can bring them even closer.
Morris
St. Charles
Oak Brook
Burr Ridge
Bourbonnais