5 Ways to Customize Your Rooftop Basketball Court in Chicago, IL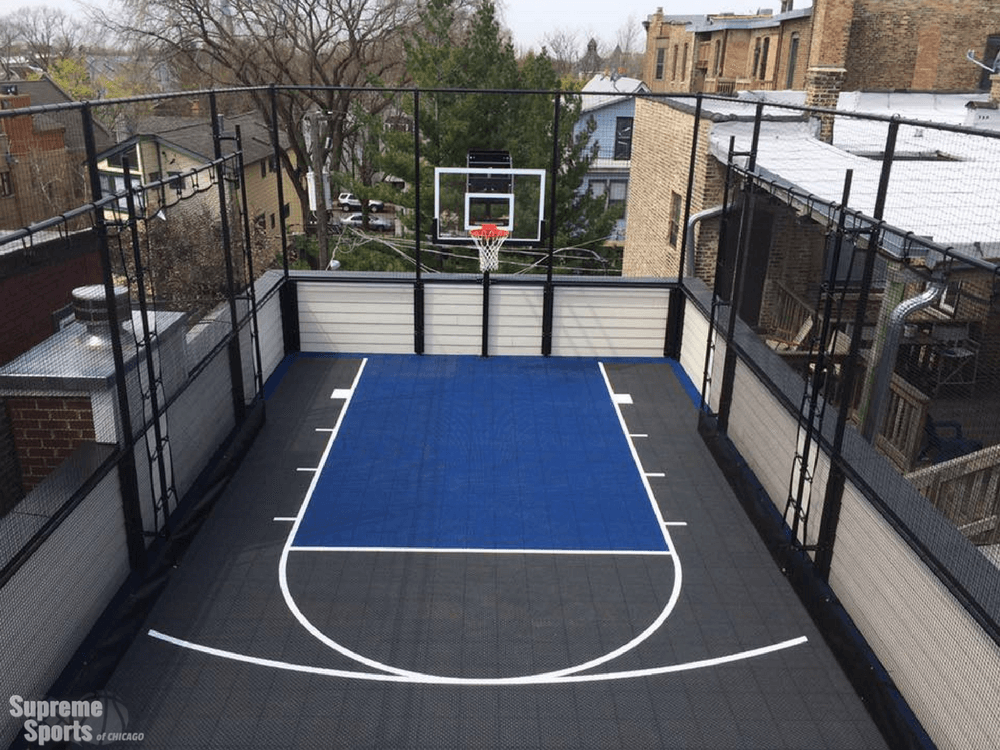 Basketball is a favorite pastime for many across the world. In congested cities like Chicago, driveway and yard space does not always permit for a half or full court. Supreme Sports of Chicago is here to propose an innovative alternative: if you can't build on the ground level, why not on the roof?
Commercial facilities like sporting goods stores, gyms, multi-living facilities, and even hotels and resorts have expanded their amenities upwards. Today, you can find putting greens, basketball courts, and even dog parks on rooftops throughout metro cities.
This is also a great solution for homeowners in row housing. Condos and brownstones have limited yard space. We can offer rooftop basketball court opportunities to increase play space for the entire family.
For the best playing experience, we recommend the following safety measures for all roof courts. These all contribute to helping reduce injuries and out of bound balls. Here are some safety options to request when building your rooftop basketball court:
Orthopedic Sports Tile
Indoor and outdoor basketball courts can have many different types of surfaces, including hardwood floor surfaces, poured rubber, and interlocking rubber sports tiles. We like to use the sports tiles for rooftop court applications. They offer superior orthopedic support for gameplay running and jump shots. They also are porous, which allows water to flow through and underneath them out to the drain sprouts. This helps keep the court space dry and inevitably last longer in a rooftop application.
Customized Hoops
Basketball hoops come in many different styles and sizes. We offer a wide variety of backboards too for the best practice and family fun space. Supreme Sports will customize a hoop specifically for your rooftop court.
Perimeter fencing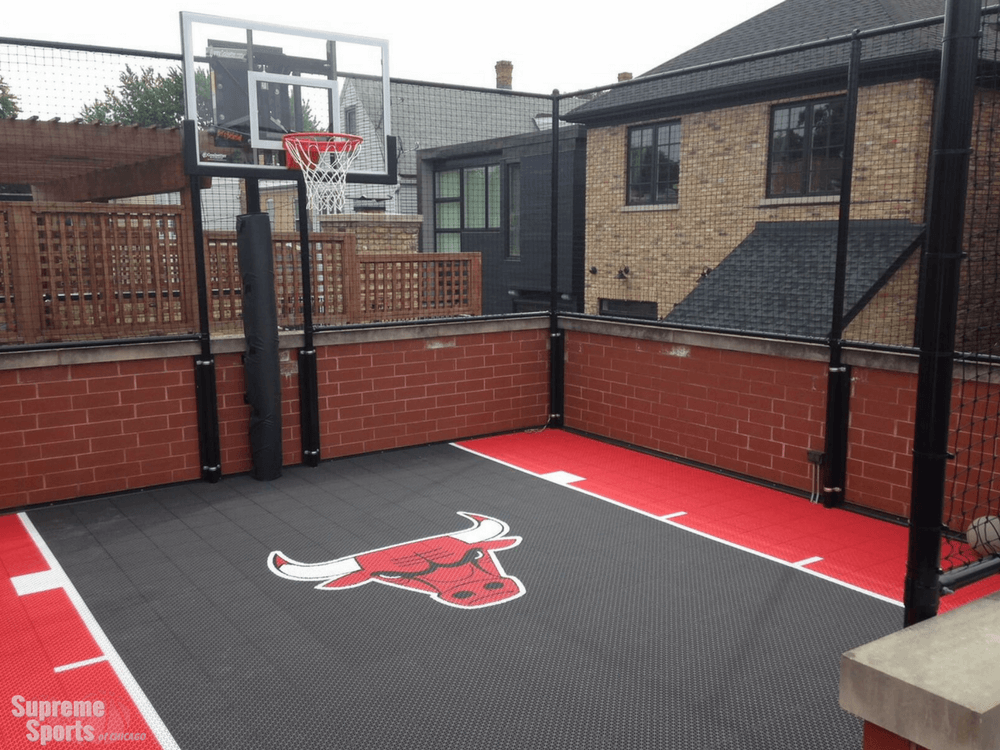 Fences are an absolute must for any rooftop outdoor living area and are often available up to 10 feet high. Fencing offers boundaries for kids, pets, and athletes in the middle of a game. Instead of a standard chain link fence with large openings, it's ideal to look for steel mesh that is less open. You can also look at bungee cord mesh to help keep smaller items in. The fencing systems we use are made of heavy-gauge steel for durability, even with constant exposure to the elements.
Rebounder Systems
These are a great addition to any roof court even when perimeter fencing is already in place. In fact, if fencing is already there, it just makes it easier to set up a rebounder net system. Rebounding nets help contain the ball during out of bounds passes or missed free throws. Available in either 10 or 20 foot systems, bungee cord netting is great for court sides and behind the backboard. Their biggest function is pushing out of bound balls back into the roof court space.
Multi-Sports Play
Basketball is not the only sport to play on rooftops. With small additions, your rooftop basketball court can be used for soccer, baseball, volleyball, and tennis. We make it easy to have the ultimate play space for your family.
As you can see, it is possible to have a safe rooftop basketball court in both downtown and Chicago suburbia. Get started with a free design estimate from Supreme Sports of Chicago. We can't wait to add this fun feature to your home or commercial property!